Take Your Productions from Drab to Fab
If your productions are lacking that elusive professional quality, you need to upgrade from your DAW's stock plug-ins. And iZotope's Elements Suite is a great place to start. Ozone Elements includes a suite of essential mastering modules that will give your mixes a radio-ready sheen. RX Elements eliminates the unwanted sounds that can wreck an otherwise great recording. Neutron Elements supplies you with a great batch of cutting-edge mixing plug-ins. And Nectar Elements contains everything you need for pro-level vocal tracks. To achieve pro-quality results, you need pro-quality plug-ins, and iZotope's Elements Suite delivers the goods.
Ozone Elements
Ozone Elements will transform your unfinished-sounding mix into a studio-quality master. This suite of essential mastering tools is loaded with intelligent processing and a bevy of new features. Optimize your mix's sound field using Ozone's Imager, which includes an improved Stereoize mode. Sculpt it to perfection with its EQ. Pump it up to professional levels with its acclaimed Maximizer. And if you're having trouble getting started, Ozone Elements' Master Assistant uses your audio's sonic profile to get you to a logical starting point. Retooled for faster performance and smoother workflows, iZotope Ozone Elements is a great way to polish and perfect your mixes.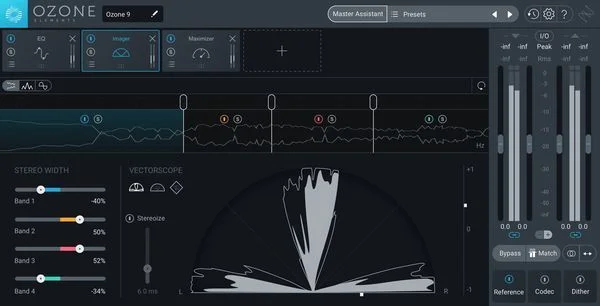 Features:
Suite of essential mastering tools
Master Assistant uses your audio's sonic profile to get you to a logical starting point
Imager module includes powerful multiband controls and an improved Stereoize mode
Professionally designed presets for genre, delivery formats, and more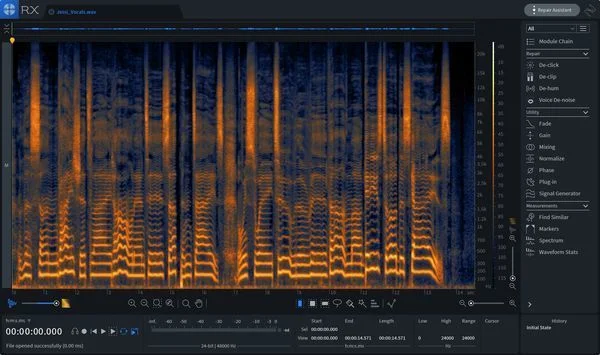 RX Elements
You record your podcast, and everything goes well. Then you play it back and realize that you can hear the neighbor's dog barking, the guy down the street mowing his lawn, and the air conditioner kicking on. In the past, these distractions would have wrecked your recording. But now you have RX Elements. This indispensable app works like a photo editor — you just paint away the unwanted sounds. And on top of that, its Repair Assistant function uses machine learning to solve common audio issues for you! You can use RX Elements as a standalone app or as a plug-in in your favorite DAW. Buzz. Clicks. Hiss. Funny screaming goats. No sweat — RX Elements can fix it.
Features:
Repair Assistant uses machine learning to solve common audio issues quickly and easily
Music-optimized tools remove mic bleed, sibilance, mouth clicks, breaths, and other common irritants
Straightforward interface makes operation intuitive
Task-based modules focus on specific audio issues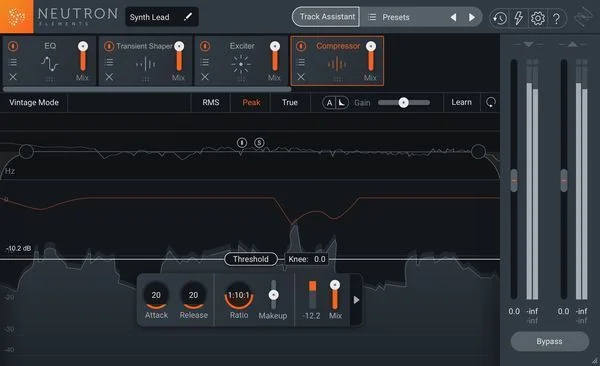 Neutron Elements
Looking for a great entry into modern mixing? Neutron Elements is just what you need — it includes a cache of bread-and-butter mixing plug-ins. And thanks to revolutionary features like Track Assistant and EQ Learn, it's a breeze to use. Neutron Elements features four terrific-sounding modules for crafting top-notch mixes. Neutron Elements also boasts huge performance gains over previous versions, along with a resizable interface and smooth visualizations that supply you with a better workflow.
Features:
Track Assistant analyzes your signal and gets you to a logical starting point
EQ Learn automatically detects frequencies that need tweaked
Includes 4 powerful modules to perfect your tracks
Resizable interface and smooth visualizations supply you with a better workflow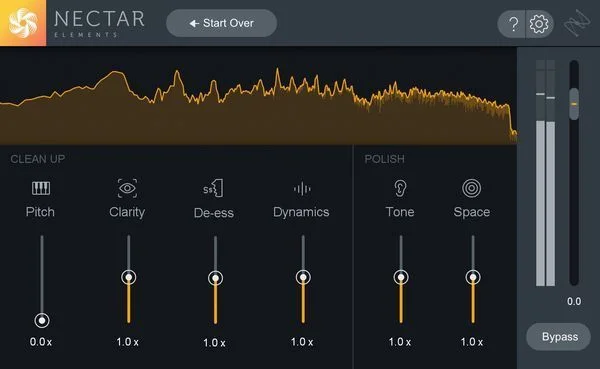 Nectar Elements
Nectar Elements is the easy way to inject your vocals with professional clarity and polish. Packed with robust processing, this plug-in offers compression, de-essing, tonal and subtractive EQ, pitch correction, and reverb — everything you need to make your vocals shine. Best of all, iZotope's revolutionary Vocal Assistant analyzes your vocals and applies the processing automatically. You can also select between three different Vibe modes to tell Nectar Elements what kind of sound you're aiming for. And if you want to take matters into your own hands, Nectar Elements' easy-to-understand interface keeps it simple. Stop fighting to achieve pro-quality vocals — get Nectar Elements!
Features:
The easy way to inject your vocals with professional clarity and polish
Offers compression, de-essing, tonal and subtractive EQ, pitch correction, and reverb
Vocal Assistant analyzes your vocals and applies automatic processing
3 different Vibe modes (Modern, Vintage, or Dialogue) target the kind of sound you're aiming for
Easy-to-understand interface puts you in direct command of Dynamics, Tone, Space, and more