Transparent 26-band Equalizer with EQ Match and Gain Match
From Eventide and Newfangled Audio comes a new way to match and invert EQ curves from any incoming audio source: the EQuivocate graphic equalizer plug-in. EQuivocate's 26 mastering-grade auditory filters, based on the MEL scale, correspond to critical listening bands in the human ear. These deliver smooth, transparent results for subtle master-buss sculpting to clear-cut instrument shaping. EQuivocate does a great job at matching EQ automatically — side-chain a reference track, synth pad, or drum buss into EQuivocate's input, and watch as it imparts that EQ curve on your insert track. You can then adjust, or even invert, how much matching you get. Not only that, but EQuivocate also allows you to draw in your own curves for more creative sound sculpting.
Another useful feature is EQuivocate's output section Auto Switch, which automatically matches perceived loudness between flat and EQ'd results — an essential feature for making critical mix decisions. Manually adjustable input and output gain, along with independently adjustable band controls — frequency center, gain, and even total number (1–26) of bands — give the Eventide / Newfangled EQuivocate all the power you need for just about any type of traditional EQ application as well.
This product requires that you have an iLok account for authorization, although it does not require a physical iLok key.
Human-ear EQ for natural-sounding frequency shaping
Newfangled Audio's EQuivocate EQ plugin employs human-ear filters, allowing you to sculpt your sound according to how you hear. The result sounds incredibly natural and transparent. EQuivocate is a linear-phase equalizer, eliminating the smearing and phase issues that can result with minimum-phase EQs. EQuivocate is guaranteed to become an important element of your mixing and mastering toolset.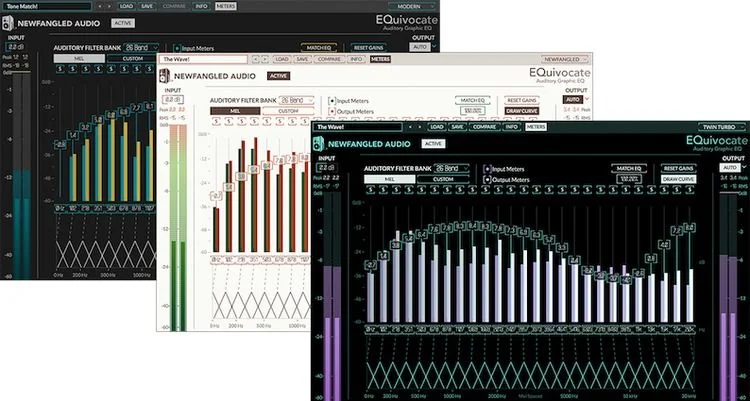 Eventide / Newfangled Audio EQuivocate Graphic Equalizer Plug-in with EQ Match Features:
26 auditory filters based on the MEL scale of human listening yield smooth, transparent results
Match EQ function with percentage control (-100%–100%) mimics or inverts the tonality of incoming reference tracks
Manually adjustable input and output gain
Auto output level matches perceived loudness
Manual band controls: frequency center, gain, and total #
Draw in your own curves for creative results
Solo bands individually or in groups for auditioning purposes or to achieve filter-type results
Includes 3 color variations to accommodate any workflow
Compatibility: Windows 7+, OS X 10.7+
Tech Specs
Software Type:

EQ & Filter

Platform:

Mac, PC

Upgrade/Full:

Full

Download/Boxed:

Download

Format:

AAX Native, VST2, AU

Authorization Type:

iLok Account Required

Hardware Requirements – Mac:

2.5GHz processor or higher, 4GB RAM minimum

Hardware Requirements – PC:

2.5GHz processor or higher, 4GB RAM minimum

OS Requirements – Mac:

OS X 10.8.5 or later

OS Requirements – PC:

Windows 7 SP1 or later